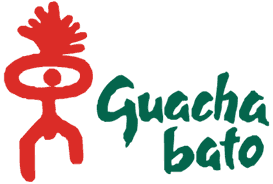 Guacha Bato Editions
was founded in 1987 by Seragio Ruiz and Raquel Guerrero. The defining characteristics of this etching workshop include an expertise in color management and the grand format.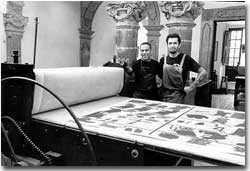 Important artists have worked with
Guacha Bato Editions
, starting with Alfredo Zalce, senior aritis of the legendary Workshop of Popular Graphics, and other notable contemporary artists such as Javier Arevalo.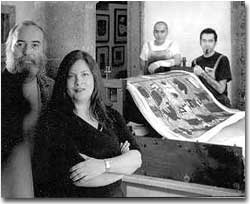 Guacha Bato Editions
has participated in numerous art exhibitions in Mexico and internationally, having gained in several occasions recognition and awards.
Guacha Bato Editions
Contreras Medellín # 357
Col. Artesanos C.P. 44200
Guadalajara, Jalisco, México
Tel. (3) 6 58 22 88
Fax (3) 6 58 45 88
e-mail guacha@prodigy.net.mx
Open : Monday to Frifay 10:00 a 14:00
y 16:00 a 20:00 Hrs.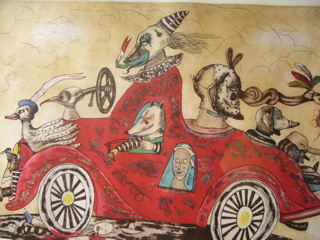 "La Banda del Carro Rojo", etching by Alejandro Colunga
"Grabados de Guacha Bato"
January 5 - February 5, 2008

An exhibition of fine art prints by some of Mexico's most recognized artists will be on display in both galleries. Includes work by Alejandro Colunga, Ismael Vargas, Mario Martin Del Campo, Maximino Javier, Leonel Maciel, Javier Arevalo, Jose Luis Cuevas, Gustavo Rivera, Antonio Ramirez, Alfredo Zalce and Francisco Ochoa.

Guacha Bato Editions
Guacha Bato Editions was founded in 1987 by Sergio Ruiz and Raquel Guerrero. The defining characteristics of this etching workshop include an expertise in color management and the grand format. Important artists have worked with Guacha Bato Editions, starting with Alfredo Zalce, senior aritist of the legendary Workshop of Popular Graphics, and other notable contemporary artists such as Javier Arevalo.

Guacha Bato Editions has participated in numerous art exhibitions in Mexico and internationally, having gained in several occasions recognition and awards.

Xaltemba Restaurant & Galeria is located on the northwest corner of the Plaza in La Peñita de Jaltemba. More information call (327) 274-3238